Your honeymoon is the chance to relax and unwind with the love of your life. Take this once in a lifetime opportunity to create special memories that you will cherish and look back on for the years to come. Picking the right destination for your honeymoon is an important piece of the puzzle, one that we think Chania is the perfect fit for.
Chania is a beautiful city located on the northwest coast of Crete, known for its stunning beaches, crystal clear waters, and rich history and culture. It's the perfect destination for a romantic honeymoon.
Here's how to plan a beautiful and romantic honeymoon in Chania:
1. Choose the right accommodations
Chania has a wide range of accommodation options to suit any budget and preference, from luxury spa resorts to charming villas and apartments. Consider what type of experience you want to have and choose a place that fits your needs.
2.Create a list of the sights and landmarks you want to visit in Chania
Making a list of the landmarks you want to visit in Chania is a great way to ensure that you don't miss out on any of the island's must-see sights. Whether you're interested in exploring the island's rich history and culture or simply want to take in its breathtaking natural beauty, there is no shortage of landmarks to choose from. Consider visiting the Old Town, which is filled with narrow streets, charming shops, and restaurants serving delicious local cuisine. You can also visit the Venetian harbor and the old lighthouse, which offer beautiful views of the city. Other activities to consider include boat trips, scuba diving, and hiking in the surrounding mountains.
3.Experience the local culture
Chania has a rich history and culture, with ancient ruins, museums, and cultural events to explore. Consider visiting the Archaeological Museum of Chania, which houses a collection of ancient artifacts from the region, or the Chania Municipal Art Gallery, which features works by local artists. You can also attend a traditional Greek dance performance or participate in a cooking class to learn how to make traditional dishes.
Experiencing the local culture in Chania is a must for anyone visiting the island. From its rich history and vibrant traditions to its delicious cuisine and friendly locals, there is so much to discover about Chania's culture. Another great way to experience the local culture in Chania is to visit its many markets, where you can find everything from fresh produce and local crafts to handmade jewelry and traditional clothing. And of course, no visit to Chania would be complete without trying some of the island's delicious cuisine, which is influenced by both Greek and Cretan flavors. Whether you're exploring the island's historic landmarks or enjoying a traditional meal, there is no shortage of opportunities to experience the local culture in Chania.
4. Indulge in delicious food and wine
Chania is known for its delicious food and wine, with a variety of fresh, local ingredients to choose from. Consider trying traditional Greek dishes like moussaka and spanakopita, as well as fresh seafood and locally grown produce. Be sure to also sample some of the local wine, which is produced from grapes grown in the surrounding region.
5. Relax on the beach
Relaxing by the beach in Chania is the perfect way to unwind and soak up the island's laid-back atmosphere. With its crystal-clear waters and pristine sandy beaches, Chania is a beach lover's paradise. Whether you're looking to sunbathe on the beach, go for a swim in the warm waters, or try your hand at a water sport, there's something for everyone to enjoy. There are many beachside resorts and hotels in Chania that offer easy access to the beach, as well as a variety of amenities such as sun loungers, umbrellas, and beachside bars and restaurants. If you're looking for a more secluded spot to relax, there are also plenty of hidden coves and quiet beaches to explore. Whether you're looking to relax and unwind or try your hand at a new activity, the beaches in Chania are the perfect place to kick back and enjoy the island's laid-back atmosphere.
6. Take a boat trip.
Chania is located on the coast, making it a great destination for boat trips. Consider taking a boat tour of the coast, visiting nearby islands, or going on a sunset cruise. This way you can see the island from a different perspective and take in the coastline and beaches. You can also plan to explore hidden coves and beaches. Many of the island's most beautiful and secluded beaches can only be accessed by boat, making a boat trip a great way to discover hidden gems that are off the beaten path. If you love to swim or snorkel, Chania is home to some of the most crystal-clear waters in the Mediterranean, and a boat trip is a great opportunity to take a dip and explore the underwater world. Experience the island's rich history and culture: Many boat trips in Chania include stops at historic landmarks and cultural sites, allowing you to learn more about the island's rich history and culture. A boat trip is also a great opportunity to sit back, relax, and take in the natural beauty of the island. Whether you choose a sunset cruise or a full-day excursion, a boat trip is a wonderful way to unwind and soak up the island's unique atmosphere.
7. Plan a surprise or two.
A romantic honeymoon is the perfect opportunity to surprise your partner with special experiences or gifts. Consider planning a surprise candlelit dinner on the beach, booking a couples massage, or buying a special gift to remember the trip.
Your honeymoon is a chance to celebrate your marriage and to take your first step in starting your new life together. It's an opportunity to relax and enjoy each other's company without the distractions of everyday life.
Overall, Chania is a beautiful and romantic destination for a honeymoon, with stunning beaches, delicious food and wine, and a rich history and culture to explore. With so many things to do and see, you'll be able to create a trip that is tailored to your interests and needs. Happy honeymooning!
Crete is the largest Greek island, is incredibly easy to access compared to other islands
and a beautiful European holiday destination for a reason. Here you can enjoy mild weather, picturesque beaches, historical architecture, breathtaking natural wonders, hiking and outdoor activities as well as the ultimate in culinary experiences. You really are spoiled in Crete when it comes to holidays in Greece.
When people are deciding on their holiday destination within Crete you will often hear people debating between travelling to Chania, Heraklion or Rethymno. We are going to take you through these destinations to help you decide on your next holiday location in Crete.
Things to do in Chania
Chania is the largest island in Greece. Easily accessible and attracts tourists from all over the globe year after year. Highlights of Chania include:
Old Venetian Harbor: This iconic centrepiece of Chania is one to be explored on foot. The streets are charming, clean and home to many vendors. Here you will find locally made products, souvenirs, bars and restaurants. You can spend the whole day enjoyably exploring this area and never get bored. The atmosphere is very unique and this brings people back time and time again.
The Venetian Harbor is considered one of the most notable historical landmarks in Chania and even Crete. It was built sometime between 1320 and 1356 AD by the Venetians during their occupation of Crete. A historical site that has to be seen to be believed.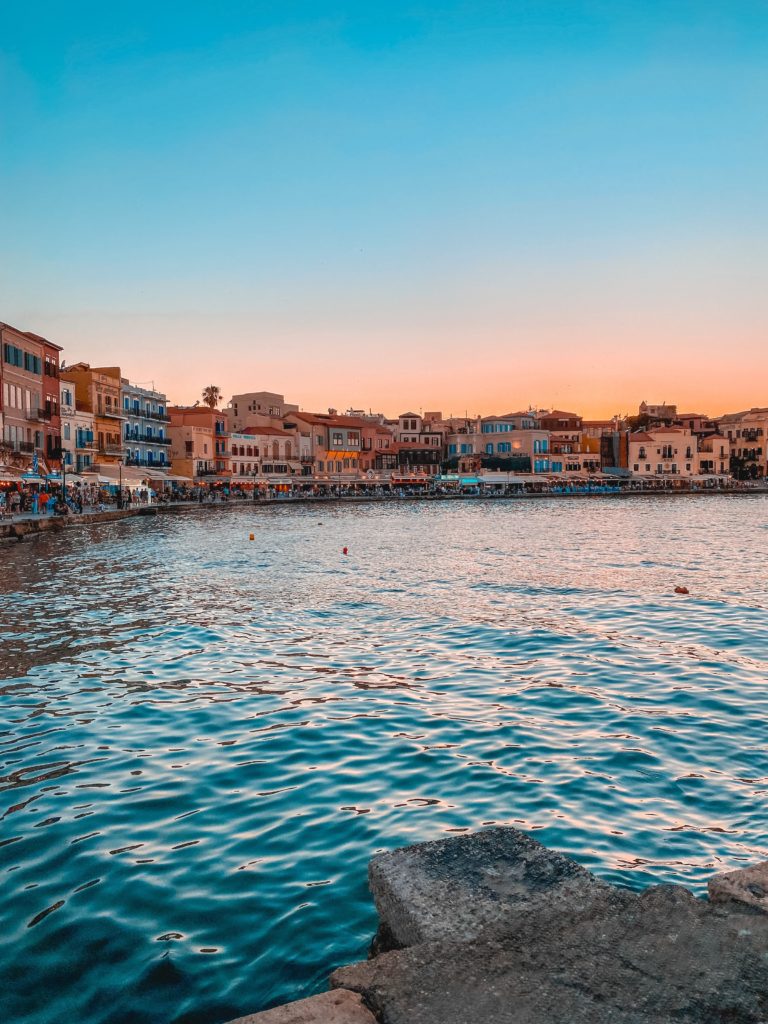 Elafonissi Beach: Often listed as one of the best beaches in the world and for good reason. The waters are a beautiful turquoise and the sand is pink. The small island is home to an array of vegetation and natural wonders, which is internationally recognised as a nature reserve. You don't find beauty like this very often.
It is a popular destination for people to enjoy some time by the Ocean but you'll still find the space to lay down and relax on the sand which is like fine dust. Quite the unique beach for a region that is known for shingle or pebble beaches. This is a "must visit" destination for anyone whether you're a solo traveller or large family.
The lighthouse of Chania: Built in the 16th century to protect the Chania harbour, this lighthouse is now an attraction in Crete that is well loved. Experience the views when walking the grounds and the beauty of the restored architecture of this iconic structure. In the evening the light shines bright, adding to the ambiance of the port.

Things to do in Heraklion
This port city is the capital of Crete. It is known for the famous site of Knossos and has many museums and art exhibitions to enjoy. Highlights include:
Knossos: This palace became the political and ceremonial centre of the Minoan civilization. Called Europe's oldest city, this incredible Bronze age archaeological site is the largest in Crete. It has a long history of being inhabited from around 7000 BC until it was destroyed and abandoned in 1375 BC, this signalled the end of the Minoan civilization. You will be captivated by the beauty and rich history of this palace. Some of the artefacts can also be found in the Heraklion Archaeological Museum. If you want to visit both sites you can always purchase a combination ticket to save you some time and money.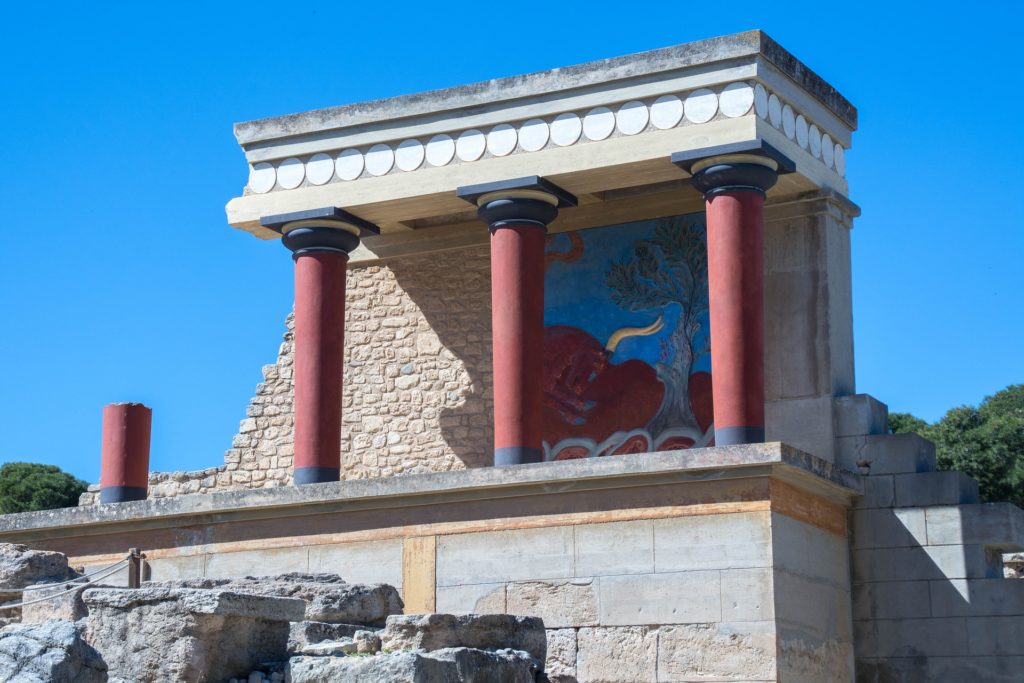 Heraklion Archaeological Museum: Get ready to be blown away by the incredible artefacts from the civilizations that had once called the island home. You will see everything from statues to jewellery, paintings, weapons and more. This is a museum you want to make sure you have time for because of the sheer volume of exhibits to see.
Castello Del Molo: The Koules Venetian fortress of Heraklion is a coastal stronghold that is located near the entry of the harbour. This fortress was built between the 9th and 10th century and has seen a lot in those years, now it is restored and open for the public to see and appreciate. The ground floor contains 26 rooms that were used as barracks, a prison and a water reservoir. At certain times of the year you can also enjoy special events and exhibitions.

Things to do in Rethymno
Rethymno is the third largest town in Crete, after Heraklion and Chania. It is located at the base of the Psiloritis mountain range. Highlights of Rethymno include
Old Town: here you can explore one of the most alluring and preserved mediaeval cities. You'll find a combination of Venetian architecture and Turkish influences here. There is an array of different shopping experiences to be had. Whether you're looking for some affordable souvenirs or a high quality handbag you'll find something to take home from Old Town. Bring your appetite because there is an abundance of restaurants to choose from.
The Venetian Fortezza: An expansive fortress full of history and a great example of Roman architecture. It is a captivating beauty to witness but there is a lot of it so you will want to pack the right footwear and for those hot days you should plan ahead to keep cool. Take in the panoramic views of the city as well as the ocean from the perimeters of the building.
Monastery of Arkadi: The exact time this historic treasure was built is debated but it is thought to have been founded by the Byzantine Emperor Arkadios back in the 12th Century. This Monastery features both Roman and baroque architectural elements. Today the Monastery has become a national sanctuary, and UNESCO has determined it to be a European Monument of Freedom. In 1866 it was destroyed but then restored to its current beauty. Today it is a symbol of resilience and an attraction for both locals and visitors.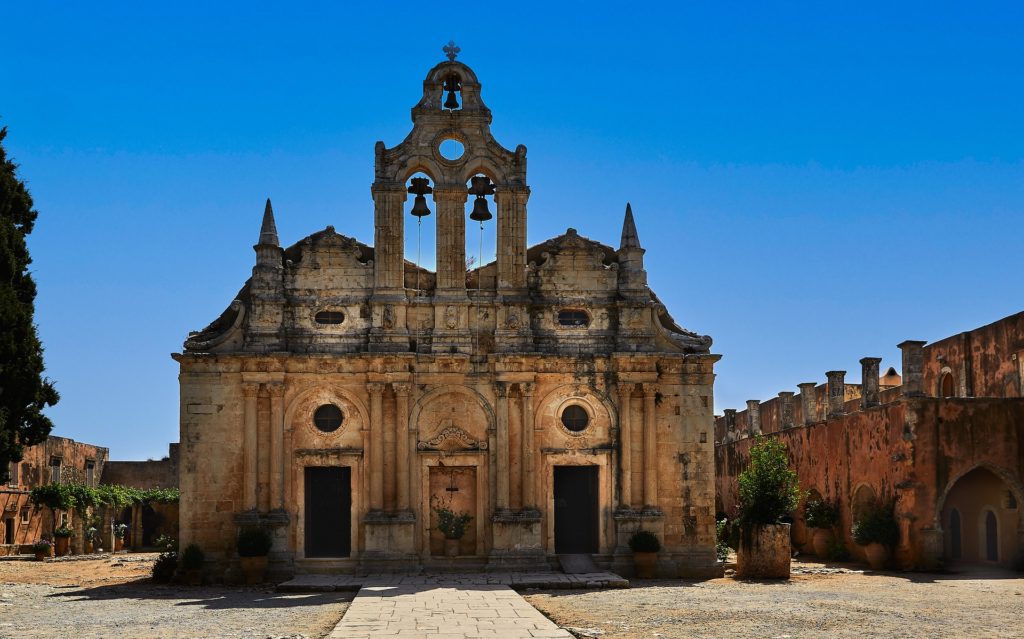 All of these regions are beautiful locations in Greece but we believe that Chania is the ideal destination for a holiday in Crete. It is the biggest Greek island and is very easily accessible either by plane or ferry. Here you will enjoy an abundance of activities that range from leisure to adventure. Whatever you're looking for you'll find in Chania, this is why Chania is the ideal choice.
If you want to stay at our luxury resort in Chania, explore our room options. We look forward to hosting you!